Significance of Akshaya Tritiya – April 26, 2020
Posted On: April 25, 2020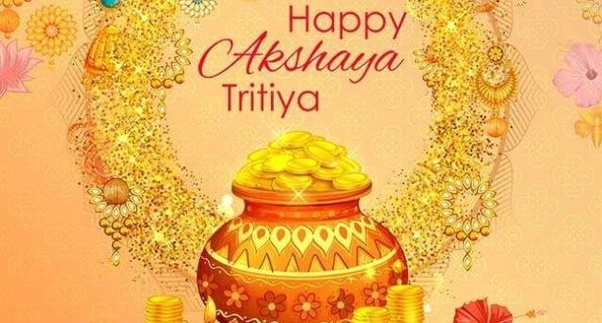 Happy Akshaya Tritiya!
Akshaya Tritiya or Akti or Akha Teej is being celebrated across the country (India) today. The word Akshaya means "Never Diminishing" as the festival is associated with wealth, prosperity and happiness. It is an annual spring festival of Hindus and Jains. It is celebrated on the third day of Vaishakh month.
Akshya Tritiya is considered to be one of the most auspicious occasions according to the Hindu calendar. It is considered auspicious to buy gold on this day or invest in new beginnings.
Akshaya Tritiya has lot of religious significance:
If Folklore is to be believed, on this day, Lord Vishnu incarnated in human form on earth.
It is also believed that on this day, Parashuram, an avatar of Lord Vishnu, was born.
Another belief associated with the day is that Goddess Ganga had arrived on Earth from heaven.
It is the starting day of Treta Yuga after Satya Yuga.
It is the day when Sudama offered Aval to Lord Krishna, who in turn blessed him with bountiful wealth and happiness.
Veda Vyasa started writing the epic Mahabharata.
Being such an auspicious day, it is also recommended to perform pujas such as Griha pravesh Puja, Bhumi Puja, Vasthu Shanthi puja or havan, weddings and office pujas on Akshaya Tritiya.
On this auspicious day, you can do some important things that is associated with prosperity and wealth:
Buy gold or silver: Since gold is a pure and precious metal, it is considered to buy gold on this day. Buying gold on this day adds to your prosperity and wealth. Marking as the beginning or addition to your wealthy life, this deed stays important. Gold is considered as an important investment. Buying silver is an alternative as well.
Make a significant investment: Just like buying gold, making a significant investment is also considered good – be it buying a car, starting an investment plan for your kids or starting a new venture.
Buying a house: If you are planning to invest in a property, this is the best day to start. Most of the Indian builders offer huge discounts on Akshaya Tritya and it makes for a perfect auspicious occasion to buy a house.
Making Donation: Prosperity is not always about buying, it's also about giving as well. Sharing a part of your wealth with needy is considered as a good karma hence on this auspicious day any kind of charity / donation be it of money or kinds are sure to be blessed by the divine power.
Service to others: You can do any kind of selfless service to human kind by offering foods or cloths. Feeding animals specially cow is considered as good luck. The cow symbolizes love and warmth.
In the times of lockdown when it's difficult to buy something then why not choose the option of donation and / or service to others and make someone smile and happy today. What could be more fruitful than this?
Peace and Bliss!
Stay Safe and Happy!
Sacred Chimez – Pallavi Sarkar Roy
Numerologist, Reiki Master, Spiritual Coach
Phone no. +61 481 306 208
Email: sacredchimez@gmail.com
Website: www.sacredchimez.com
Facebook: Sacred Chimez – Pallavi Sarkar Roy